Blogs
Brexit EU Referendum In or Out - New documentary by Subodh Gupta from Journalism News Network released today.
23rd June 2016 the day of EU referendum will be perhaps the most important day in the modern history of the UK when citizen will be deciding about its relationship with the EU which is seen as undemocratic and non transparent by many in the UK.
The documentary explored the views of both side campaigners and left the decision for the viewers to decide.
Following eminent people share their views in the documentary.
Lord Karan Bilimoria
Lord Paddy Ashdown
Kate Hoey Labour MP for Vauxhall
Douglas Carswell UKIP MP for Clacton
Shri Satish Modi Industrialist
Savita Kay CEO House of iKons
Pratik Dattani Director FICCI
Donald Boyd Film Director
Anuja Prashar
Dr Sachin Nandha
Kishan Bhatt
Vichaar Manthan VM
EU Referendum Public Opinion
Is EU democratic and transparent
New Brexit Documentary EU Referendum debate In or Out
by Subodh Gupta
It is well know fact that India is not an easy place to do business.
One simple example to illustrate the fact that is most of India's biggest IT companies are least interested in doing business in India i.e. there more than 90 percent income comes from the Western market.
Even
Vodafone executive admitted that India business difficult.
There are many reasons and among those biggest factors are uncertainty and corruption.
One can imagine about
uncertainty issue in India from the basic fact that because of the rain in one state can force major companies to relocate
(because of the incompetency in managing rain water).
Power sector company Enron uncertainty and harassment in India is a well known example in the mind of foreign investors.
Now Vodafone India facing uncertainty since the year 2007 because of the previous UPA government restrospective tax law despite India's new PM Modi assurance.
Indian tax authorities have sent notice to the Vodafone India along with warning that if due income tax of around 14,200 crore of rupees is not paid, its assets in India could be seized.
While Vodafone has said it doesn't owe the Indian government money because the transaction was conducted offshore, however, Indian authorities have sought to collect taxes on the deal because it involved the assets in the country.
There are arguments both in favour and againts, however, uncertainity in doing business in India will only act as deterrant in attracting foreign investement in India.
In Jan 2016 while addressing the business leaders of France and India, Indian PM Modi said his government wants to ensure that foreign investors are clear about tax systems that will prevail in India over the next 15 years.
Over unpredictability in the tax regime, he said,"Retrospective tax is a matter of past. That chapter will not be opened again. We are ensuring that neither this government nor the future governments can open this chapter," Modi told the India-France Business Summit. "Whosoever makes investment in the country should know about the taxation system in the country over the next five years, 10 years, 15 years," he said.
#MakeInIndiaWeek
~PM~
We will not resort to retrospective taxation
our tax regime transparent,stable and predictablehttps://t.co/J5mLLLlhnx

— Sri (@srithh) February 14, 2016
Letter from the Indian tax authority seems to undermine India's PM statement and authority and will create uncertainity which will only deter foreign investment into India.
Related Post:
FDI in retail in India pros and cons
India cultural awareness training
Goldman Sachs India outlook
India Business Consultant
Recent deportation of Orlando Bloom from India sum up everything what are the problems which arises while doing business in India.
Imagine the messy situation in India, where a chief guest (Hollywood Actor) is invited to promote tourism from London to Delhi on behalf of Chief Minister of a state (Uttar Pradesh) India and he is deported back to London because of the confusion in India e visa system.
Orlando Bloom invited as chief guest for promoting tourism in India is deported. Is it funny or embarrassment? pic.twitter.com/g99WloAAwe

— India Business (@indiaukbusiness) December 20, 2015
India is synonym to unpredictability and that is precisely what business person don't want while making an investment however nothing concrete has been done by Indian government in this direction.
In the last one decade there is hardly a single company which is making profit in Indian retail sector.
In fact most companies including Walmart are facing serious losses however still many more rushing to India in hope considering large population and growing economy but they don't realize the low profit margins.
Unless western business understand Indian psychology and inherent problems in India,it is extremly difficult for any business to be profitable in India.
Low profit margins is another reasons that company such as
HSBC are closing down India private banking business
Similarly infrastructure and unpredictability are so high that a rain can force companies to relocate
for example recently
many western companies ended up relocating from Chennai because of rain
.
Related Post:
FDI in retail in India pros and cons
India cultural awareness training
Goldman Sachs India outlook
India Business Consultant
HSBC became another foreign bank who is closing down its private banking business in India Asia's third-largest economy because of low profit margins.
I have explain about low profit margins in India and how most business areas in India are just not profitable for foreign businesses.
In fact I have also explained in my book
Doing Business in India and Understanding pitfalls
that without proper understanding the Indian economy gold mine, rushing to the Indian market can be the prime reason for failure. Indian business ad market is just different.
"After a strategic review of the global private banking operations in India, we have decided to close the business," an HSBC Indian spokesman said.
Many foreign wealth managers opened business in India thinking of fast economic growth, only to find themselves confused with the low profit margins.
India's economy has failed to translate into profits for the foreign wealth managers.
Earlier Royal Bank of Scotland & Morgan Stanley have sold their onshore India private banking units.
HSBC would offer private banking clients the choice to move to HSBC Premier, the bank's global retail banking and wealth management platform.
HSBC employs around 32,000 people in India and it offers corporate, retail and investment banking services.
Related News


India business unpredictable: foreign companies relocate because of rain

India Business difficult: Vodafone
Walmart will face losses in Indian Retail Sector
FDI in retail in India pros and cons
India cultural awareness training
Goldman Sachs India outlook
India Business Consultant
How can a business operate if most of the time a business is busy in dealing with corruption, mismanagement and confusing laws.
If all that was not enough how about incompetent civic authorities & because of their lax attitude multinational companies such as IBM are busy relocating their staff because of bit of heavy rain in Chennai.
Each year there is flood in various states in India. Billions of pounds are spent each year afterwards but nothing is actually done to prevent.
Foreign businesses including UKBIC are more adventures and bets big on India though many confused with the slow response of authorities and unpredictability in case of any natural clamity.
More than 10 years ago Goldman Sach invented the terms BRICS and was betting big on India while suggesting their clients about the big business potential in India however lately after a decade of working in India, they realized that they were earning only around 0.25% of their profit margin from Indian market and decided to exit many business areas in India.
Similarly couple of years ago
Vodafone with 140 million Indian customers were working on Zero operating profits and confused how to raise their profits and find India business difficult
.
In addition to corruption and confusing rules, India lack basic infrastructure and the result is that during slightest heavy rain, everything clogged in India.
The latest evidence is that a bit of excess rain in Chennai forced several multinational companies to relocate their employees which is discouraging for foreign investment as it is adding to already existing many unpredictability.
Chennai rain hits Tech Inc; IBM, Cognizant, Infosys on contingency plans, relocate key staff https://t.co/0UL0dxk39Y pic.twitter.com/4hhaQdWjtS

— Times of India (@timesofindia) November 25, 2015
Tech giants such as IBM and Cognizant are busy relocating their staff and if companies get involved in all these operations, when would they do business?
Related Post:
FDI in retail in India pros and cons
India cultural awareness training
Goldman Sachs India outlook
India Business Consultant
Lord Popat welcome the audience as he kindly hosted the Diwali dinner in the House of Lords on 20th Nov 2015.
He encoraged the younger generating stating that they are the future of our great country United Kingdom.
He said "From start-ups to finance; from global trading deals to partnerships in our leading law and accountancy firms. From undertaking civic duties like becoming Councillors and school governors to, hopefully, some of you becoming MPs; you are the people who can help to shape our world."
Lord popat also explained how we can take our community to the next level.
By becoming more pro-active on how we deal with issues our community is facing, like caring for our elderly.
By becoming more transparent and democratic in how we run our charities and community organisations.
and most importantly, by empowering our new generation of British born Indians.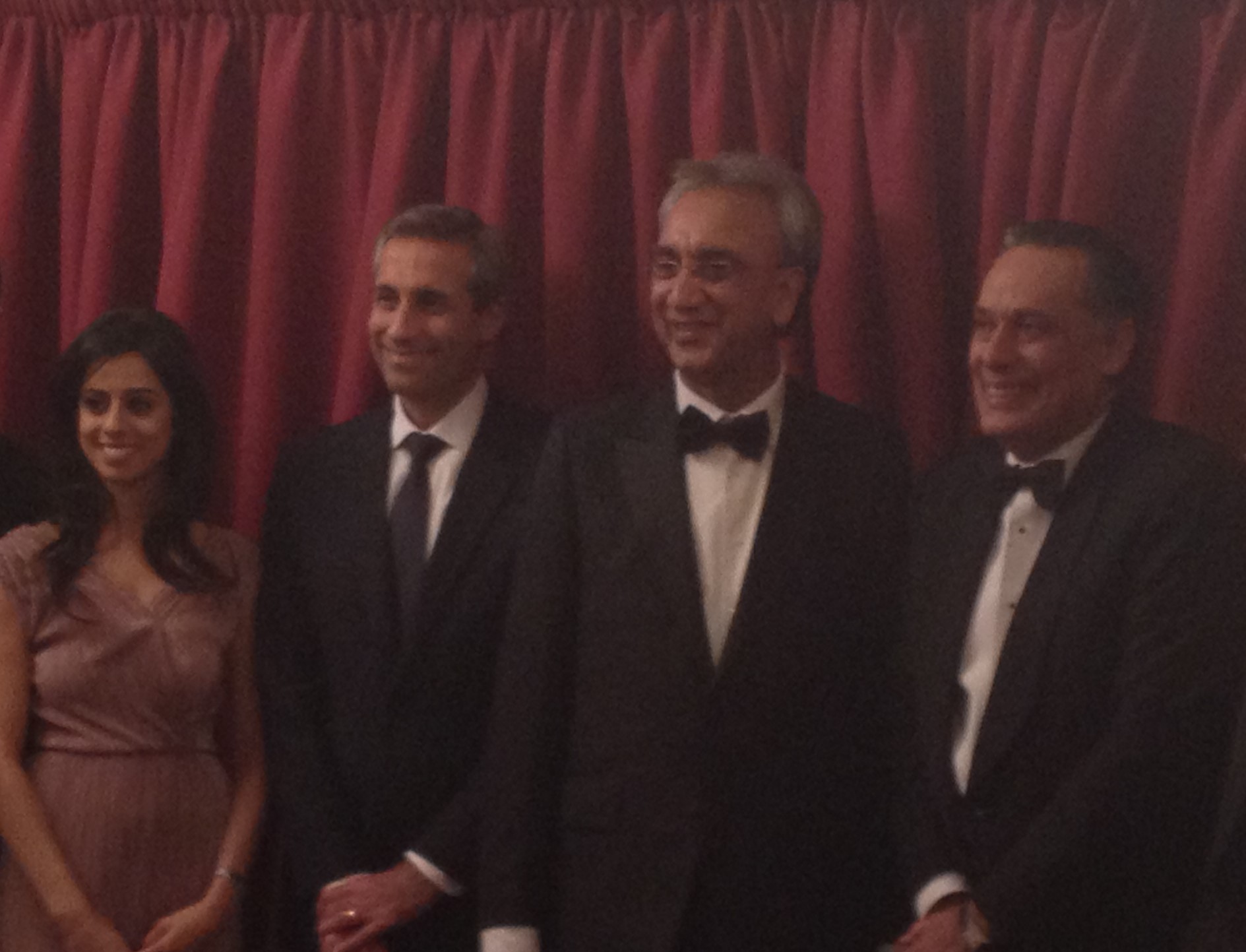 Other eminent speaker included
Manish Chande
(partener Clearbell Capitall LLP) with over 30 years of real estate experience.
He trained as a chartered accountant in 1975 which was good training for his current role as Chairman of the Investment Committee. Manish shared his life experiences with audience.
Later
Tushar Morzaria (Group Finance Director Barclays)
shared his wisdom as how to perform successfully at the top.
Diwali meet successfully ended with audience seems enjoyed every moment of the Hindu network meet.
Lord Dolar Popat is a British Asian politician. He was a Government Whip & in July 2010 he became a Member of the House of Lords as a life peer and is
the first Gujarati to represent the Conservative party in the House of Lords.

EU Referendum Public Opinion
Is EU democratic and transparent
New Brexit Documentary EU Referendum debate In or Out
by Subodh Gupta
Summary:
Even after 65 years of democracy in India, life of ordinary citizen is just too stressful.

Government of India is asking banks to stop harassing pensioners but Central Bank of India officials are still not following banking or Govt guidelines,holding pensions up to 8 months unlawfully, hiding information and evading replying and bank chairman instead of taking action choose to stay silent.
Following is a case of retiree (2004) V. K. Gupta PPO No.-4234 whose Pension Arrears were withheld for 6 months and still not corrected, Pension was held up many times for years even up to 8 months without any valid reason and around 3 times more income tax deducted on imaginary pension which wasn't received despite senior most bank officials are informed about it.
@narendramodi, @centralbank_in Central Bank of India (Bareilly) withholding pension & CMD Shri.Rajeev Rishi silent http://t.co/DDvwHVIy8q

— Journalism.net.in (@jnewsnetwork) April 28, 2015
Pensioners don't even know what is their actual pension each month which they are receiving and instead of addressing the issues central bank of India is hiding information on how they grossly under-calculated arrears and senior bank officials are keeping silence and evade answering?
Now even the senior most officials in Central Bank of India, Rajeev Rishi, CMD chose not to reply when many emails were sent to them as why his Bareilly bank officials are not following the CBI bank policy.
As per law even government of India can't stop the pension of a retiree but CBI officials have demonstrated again and again with total disregard to the Government of India initiative by acting in an autocratic manner.
Should ordinary old pensioners suffer by the central bank's callous and irresponsible behaviour despite Government of India initiative that pensioners shouldn't be harassed?
If problems of harassment can't be solved even after informing to the chairman of a bank for more than 6 months than what about the stressful situation of other pensioners/bank customers?
Source:
http://www.journalism.net.in/central-bank-of-india-harassing-pensioners-cmd-silent-1553/